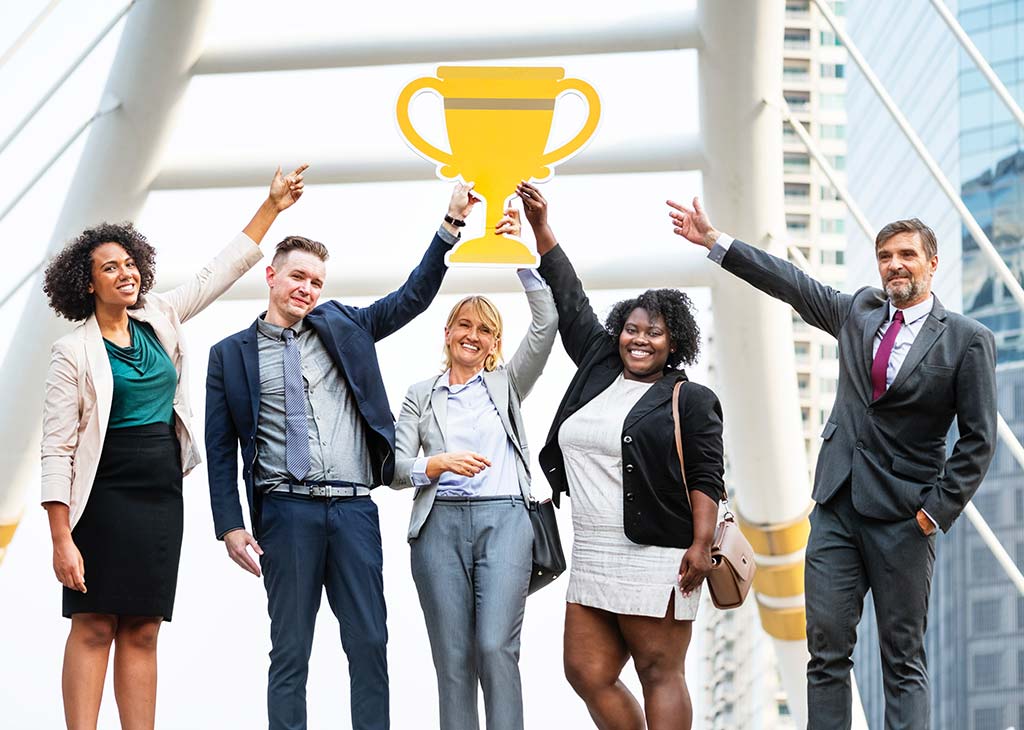 Office Fundraising Ideas
Get inspired to organize a DIY fundraiser with your team at work!
Want to get your employees engaged? Flex your creative and competitive spirits? Contribute to your community? Bond with your teammates? Support Canadian families in need? You can do it all with workplace giving! Here are some fun and unique fundraising ideas to encourage team building, boost morale and give to a good cause.
13 Ideas for Fundraising with Your Team at Work
1. Dress-down days
Welcome employees to pay any day that they want to skip professional work attire and come in casual! Bonus: encourage your crew to wear blue for autism awareness!
2. Raffle
Sell raffle tickets for a chance to win a variety of great prizes. Ideally, get these prizes donated—or consider other no-cost yet in-demand rewards, like an extra vacation day; a week of casual clothes; or a week's access to the office's best parking space!
3. Behaviour bans
Ban taboo office behaviours, like not saying hello to colleagues in the morning or leaving documents in the printer, or ban a popular office buzzword—and charge a penalty to anyone caught in the acts!
4. 50/50 draws
A tried and true classic! Sell raffle tickets to your colleagues, add up the total amount collected and divide it in half. Draw a winner, give half the pot to them and donate the other half to your charity of choice.
5. Paid pledges
Sponsor teammates who are willing to pledge to give something they love up for a period—favourite treats like morning coffee, soda pop or chocolate or even conveniences like eating lunch out.
6. Sporting competitions
Have a foosball or ping pong table in your office? That makes things easy! Prefer to head out to play some soccer, volleyball, tennis or flag football? Even more exciting! There are many ways to fundraise: get sponsors, take bets, charge to participate or spectate, sell snacks and drinks on site!
7. Office olympics
Follow the format of idea #6, but get creative and silly by creating a series of competitions within the office–activities like desk chair racing, typing contests, arm wrestling, tug-of-war, egg and spoon racing and spelling bees. Add to the fun by designing awards winners can display in their cubicles!
8. Potluck lunches
Sell tickets to an office potluck! For extra flavour, pick a theme, like family recipes. Those who sign up to bring an item may pay a lower entry fee. To make it even more enticing, consider hosting a series of lunch & learns. Find a few teammates willing to share a skill or story and host TED Talk-style sessions over lunch.
9. Wellness perks
Foster a healthy culture through by-donation wellness offerings. Enticing options may include a yoga or dance class in the office or at a nearby park; massage sessions from a (ideally volunteer) RMT; or team runs every Friday afternoon.
10. Costume war
Find executives who are willing to wear a silly costume for a day, then invite employees to bid on which boss they want to see dressed up. The boss with the most donations wins (or loses, depending on your perspective) the costume war!
11. Bid for the boss
If you'd prefer to not embarrass the boss like in idea #10, auction off a lunch with him or her. Ambitious employees may be eager to have the opportunity to get some face time and chat about new ideas and opportunities. The team member that bids the most wins the lunch.
12. Game-a-thons
Think up any activity your colleagues would be willing to try for an extended period. Dance marathons can be hilarious while video gaming runs are hugely popular. Charge an entry and get sponsors to help fundraise, plus offer a prize to the winner!
13. Nights out
Partner with a local restaurant that may be willing to provide complimentary or highly discounted offerings in order to help raise money for charity as well as get exposure within your company. There, you can host trivia nights, wine tastings or unique culinary experiences, and invite coworkers to join for a fee.
More Workplace Fundraising Tips
Get competitive spirits going by challenging another team or organization to a fundraising competition.
Ask HR if they are willing to match funds raised by employees.
Consider prizing as incentives; these could be items donated from external partners or internal rewards, like an extra vacation day; a week of casual clothes; or a week's access to the office's best parking space.
Read more tips from CanadaHelps.
Look Within: The Jake's House Challenge
Over 400,000 Canadians have autism. 1 in 66 of our children are affected. At Jake's House, we strive to support as many of these families as possible, but can't do it without your help. From now until Word Autism Awareness Month, we invite you to join a network of companies in hosting DIY team fundraising events!
We challenge you to look within your organization and yourself to become Jake's House legends, supporting Canadians on the spectrum in your own unique ways. Develop fun, creative fundraising activities-use our ideas or come up with your own, then rally your team and see how much you can raise together!
The top fundraisers will receive complimentary tickets to A Legendary Night, an exclusive World Autism Awareness Day event, featuring discussions between prominent figures on the current Canadian autism landscape and a live performance from Supertramp's Roger Hodgson, singing the hit song Give a Little Bit and other fan favourites.
By giving just a little bit, you can make a legendary difference in the lives of families affected by autism across the country. Register your team today.
Challenge Accepted?