Make this Halloween Autism-Friendly!
Many parents have shared that their children with autism love Halloween, but are often faced with challenges during the common traditions. Non-verbal children may be expected to say "trick or treat" at every door, others may be looked at as being "too old" to be collecting candy.
So, some parents, like #autismmoms like Omairis Taylor and Alicia Plumer, have initiated grassroots action to have blue candy buckets signal that a trick-or-treater is on the autism spectrum. Others suggest handing candy-givers a card that identifies their children as being on spectrum and potentially in need of special considerations. Inspired by these parents trying to affect change in their communities, the Jake's House team is happy to share their message, and is supportive of any initiatives that feed greater autism awareness and understanding.
This October 31st, we encourage everyone to be mindful of those who may enjoy the Halloween experience differently, and be understanding of their special needs. Keep an eye out for the blue pumpkins, recognize what autism ID cards may mean, and celebrate with an open mind and heart–together, we can make this Halloween more inclusive and fun for everyone.
Happy Halloween, #JakesHouseFam!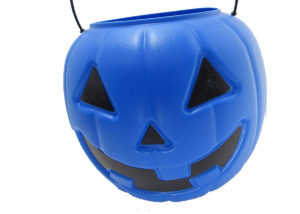 "My son is 3 years old and has autism. He is nonverbal. Last year houses will wait for him to say TRICK OR TREAT in order for him to get a piece of candy and there I go explaining the situation for the next 5 blocks. This year we will be trying the BLUE BUCKET to signify he has autism. Please allow him(or anyone with a BLUE BUCKET) to enjoy this day and don't worry I'll still say TRICK OR TREAT for him, ill get my mom candy tax later 😁. This holiday is hard enough without any added stress. Thank you in advance. P.s. I have made this post public in hopes you will share and get the BLUE BUCKET message out there for Autism Awareness and acceptance this Halloween💙🎃💙🎃💙🎃💙"
- Omairis Taylor
"Trick or Treat....the BLUE BUCKET...if you see someone who appears to be an adult dressed up to trick or treat this year carrying this blue bucket, he's our son! His name is BJ & he is autistic. While he has the body of a 21 year old, he loves Halloween. Please help us keep his spirit alive & happy. So when you see the blue bucket share a piece of candy. Spread awareness! These precious people are not "too big" to trick or treat."
- Alicia Plumer